The farmland, the salty sea air, the beautiful Slufter nature reserve, and the powerful silence: Slufterhoeve Farm Campground has all the ingredients for a relaxing time on Texel. Located in the Eierland polder on the edge of nature reserves the Slufter and the Muy, is a unique place to fully enjoy the island life. Experience the freedom and relaxation at our small-scale, quiet base on Texel for young and old!
Sleeping in the countryside is an adventure in itself. Wake up in the fresh air with an expansive view over Texel's polders and dunes. Our mini-campsite consists of fifteen spacious camping pitches equipped with electricity and water. It is a wonderful place for peace-seekers and nature-lovers, and in the future we hope to expand with a B&B.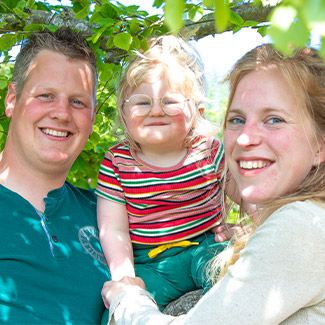 Welcome to the Slufterhoeve
This special place must be shared: that was our thought when we ended up on this farm. We are very proud to be able to live in such a beautiful and unique place. We wanted to provide this experience for others by creating a beautiful campsite where everyone can fully enjoy the rustic, quiet, and carefree feeling of Texel. Will you come visit our spot at the slufter?
Pieter, Marjet en Lisa Langeveld
From countryside to beach
With a location at the edge of the Slufter nature reserve, everything is conveniently close by. From the Slufterhoeve you can walk straight into the Eierlandse dunes, discover the natural beauty of the Slufter, and the famous Texel lighthouse in the village De Cocksdorp is also within walking distance. Fresh air guaranteed! Additionally, there are several nearby restaurants where you can enjoy a quick bite or a dinner out.